Registration
Devoxx Poland 2015 registrations is now open @ http://reg.2015.devoxx.pl
The last years Devoxx Poland (a.k.a. 33rd Degree) has been sold out around early May, you've been warned!
Prices
Devoxx Poland Blind Bird price starts from 599 PLN (150 EUR) for all 3 days.
The closer to the conference, the price is higher. A month before it costs 999 PLN (250 EUR).
All prices are excluding 23% VAT
Every attendee receives full access to the Devoxx Poland 2015 channel on Parleys.com
Call For Papers
The Devoxx 2014 Poland call for papers is now open till 15th February 2015. We will keep CFP open for 1 more month until 15th March 2015, however we will start accepting submissions on 16th February 2015. So, if you want to have highest chances, submit your talk before February 15th 2015.
Venue
ICE Krakow Congress Centre
ul. Marii Konopnickiej 17
Kraków 30-302
Poland
Tel.: +48 12 354 23 00
Google Map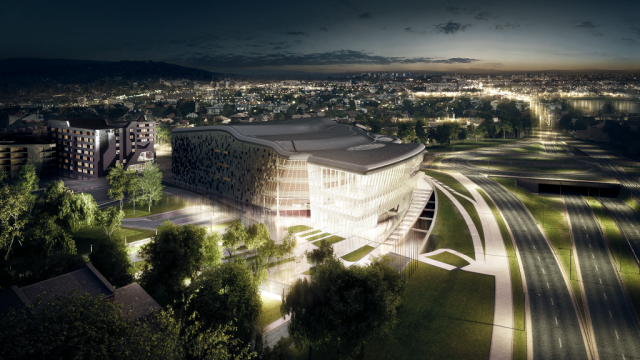 Import Note: Make sure you use the Main Entrance that is from the South of the building.
Devoxx friendly Hotels
There are special discounts for Devoxx participants in following hotels.
Best Western Plus Q Hotel – It is just next door to conference venue. Use promo code DEVOXX.
Andel's Hotel – It is close to main square. Use promo code DEVOX2015 and code type GROUP CODE.
Chopin Hotel – Use promo code DEVOX2015 and code type GROUP CODE.
Thanks to TouK, there is special 10% discount for Devoxx participants with password: "TouK" in following hostels located around 12 minutes walk from ICE Krakow Congress Centre.
The Secret Garden – single/double/triple rooms. 10% discount when booking by info@thesecretgarden.pl or phone +48 12 430 54 45
Tara Hostel – from single to ten people rooms. 10% discount when using "Touk" discount code
Event Types
Conference talks are 1 hour presentations (*)
Tools in Action are 30 minutes presentations demonstrating a programming tool (*)
Hands-on Labs are 3 hour hands-on sessions
Quickie are short 15 minute presentations during Lunch breaks
BOF sessions are 60 minutes long, scheduled in the evening and are informal
(*) Recorded for Parleys.com
Badges
If you are speaker, sponsor or participant of Devoxx Poland, fell free to use one of our badges below on your website.

Wristbands/IDs
We are examining many different ways of identification that will be the least intrusive and at the same time the most usable.
IMPORTANT NOTE: No matter what solution we will choose, wristbands/IDs are strictly personal and can't be shared!
eTicket
We'll email your eTicket 2 weeks before the conference using your registration email.
Make sure you remove info@2015.devoxx.pl and registration@2015.devoxx.pl from your spam folder.
Twitter
Follow us on Twitter for real-time updates.
Facebook
Like us on Facebook and receive more detailed information about the different Devoxx editions and general updates.
Parleys.com
Relive the many hundreds of Devoxx presentations on Parleys.com including Belgium, France and the UK.
Map
You can find most important places for Devoxx Poland on this map. There is ICE conference venue, hotels, pubs, restaurants, sightseeing places, etc. If you think we need to add something to the map, please email us.

Public Transport
If you want to travel by public transportation here is very useful service. We have already put the Conference Venue as a destination point.
Car parking
If you decide to travel by car, please notice that there is 300 free parking spots in the ICE underground parking. Please show your ticket at the entrance to avoid being charged for parking. Please note that there will be 2000 people, so if you don't need a car, please use public transportation, bike or your own foot. This way those who travel from outside of Krakow by car will have place to park.
You can also park in front of the ICE conference centre. However, those areas are not reserved for conference participants.